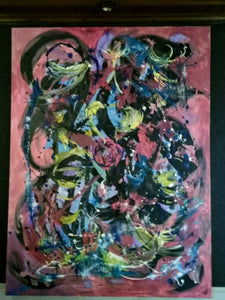 The Purple Rose is a painting by Artist Hal VanDermark
An abstract done in Acrylic on a Gallery canvas sealed with a gloss varnish.
The painting started with the Purple Rose in the middle and was a memorial to my Mother who passed from Breast Cancer many years ago. I truly enjoyed doing this piece and as you look you find more in it.
Purple is also the color for Royalty. 
I've been told that this is one of me best pieces to date and it should be in the Whitney Museum in NYC.
The painting is 36" X 48" and is framed in a Green Frame with red interior hand made by Artist J.P Fitzgerald.
Shipping will be determined later.