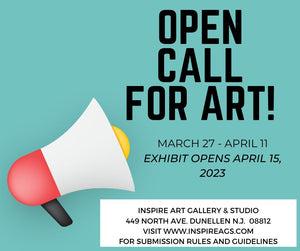 Announcing our Open Call to Artists for  "Spring Fling"  Art Exhibit

We will be changing the way submissions will be accepted at Inspire Art Gallery & Studio. Becoming an Inspire Premium Member will allow Artists the opportunity to save on Submission Fees and Commission Fees. Use the Drop down for membership for more information.
Submissions should be E-Mailed to info@inspireartgalleryandstudio.com by April 7 for consideration. Decisions will be made April 10 or earlier. The exhibit will run from
April 15 - May 15.

Submission Fees will only be subject on Artwork accepted for Exhibit.
Fees are as follows:
$ 25.00 for Members   $ 50.00 for Non-Members
5 Pieces may be submitted for consideration. 
 5 pieces Maximum    Size Limit  48" X 48" 
***Required information Artist name, Materials used, size, a small Bio, and artist statement.
Call gallery at 732-752-9200 or 732-762-7000 with any questions.