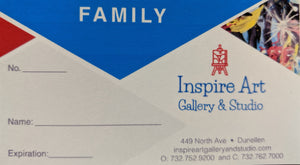 Inspire Art Gallery & Studio's yearly Family Membership plan is designed for Families who enjoy and support the Arts. They can also enjoy some benefits and savings along the way.
Cost is $60.00 for this plan.Your Family Membership will include the Following:
One Free Workshop per family member *

5% Discount on Classes at Inspire

5% Discount on Special Event Paint Nights 

10% Discount on Art, Paintings, Sculpture, Framing.

Access to 2 Member Only Events
* Limited to workshops less than 2 hours.