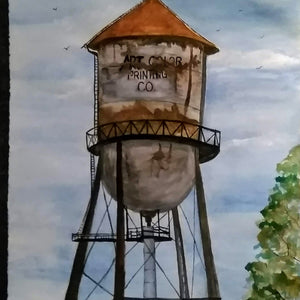 Today the Water Tower came down and many of the residents were there to see it.
I was happy to make the presentation of the original painting to the library and I also had the pleasure of meeting Mr. Robert Hardgrove who is 94 years old and was an employee of Art Color, so I was glad to present him with a print at the presentation and that was a true honor.
The original will be donated to the Dunellen Public Library and the artists proof will be a gift to the Maurer house in hopes it will become a museum.
Each print will be signed and numbered by myself the Artist, and will come with a certificate of authenticity. The cost is going to be $45.00 + Tax. If it needs to be shipped it will be an additional $15.00.
Only 50 prints are available. They're available at the website or you could stop by the gallery to pick up a print.
The water tower will be coming down June 25th and here's a way to have a keepsake of a true Dunellen Landmark.
Go to inspireartgalleryandstudio.com and order your print today!
     Get Inspired ....... Create Art !!!!