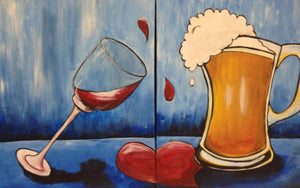 It's the start of the weekend and you're looking for something to do to kick off the weekend right. Why not register for a Paint & Sip night at Inspire Art Gallery.
Have fun , enjoy some light snacks, some beer and wine ( BYOB ) if you'd like and paint a keepsake you can call your own. Get some friends together, go out for dinner and paint afterwards.
Couples night will be held every 2nd Friday of the Month
Friday  7:00 - 9:00 PM

Some Saturday Nights are available, call the gallery to check for dates and availability. This is fun.
Cost is $50.00 per couple. You will be working together but, on separate canvases to achieve the finished Artwork!
Reservations required and can be made here.
Below is the painting we will be doing the first week.